AUTUMN FARM NEWS – NATIVE BEES
---
NATIVE BEES!
It turns out that with our biological farming practices, mature rainforest riparian zone by the creek and macadamia hills as neighbours beyond … we have the perfect habitat and food zone for native bees!
30 native bee boxes are now placed up in our rainforest and gum trees down by the creekline, with one up at our verandah just for us and our visitors to see what they are up to.
Totally stingless, tiny creatures that are to be encouraged. Steve from Australian Native Bees reckons we have created just the right habitat for local native bees to thrive. Steve was pretty keen to bring in the bee box homes and pop them up high in the trees, so they are safe – and well placed for us Humans to check out their activity. We do take our 'land for wildlife' credo seriously – it is most marvellous to find that our 50 acre property has now the right biological conditions to support lots of nature's creatures – wallabies, birds, echidnas, bandicoots, bugs and the millions of small guys. So along with our European honey bees, we can now actively look after native bees. They do get along I am told. No need to fret over who is getting access to what flower. We look forward to noting this for ourselves, once we get a noticeable flower set after the spring harvest and summer rains.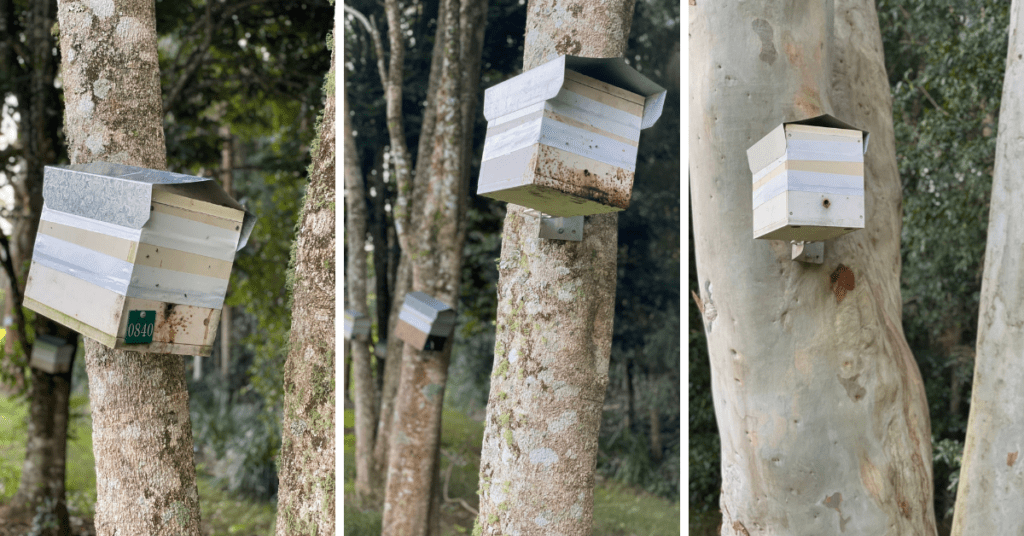 FREE FROM ANY TREE CROP CHEMICAL SPRAYS:
Zentveld's Coffee Farm and our neighbours' macadamia hills meet at our established rainforest riparian zone creekline. So between us we are providing a safe habitat and plenty of biodiversity for the bees to find flowers throughout the year. Both farms are truly ecologically minded and practice biological farming with a range of initiatives. Most importantly for our bee community and all of nature's well being .. we are both free from any tree crop chemical sprays. Yay!
Steve couldn't believe we don't spray our coffee crop with anything nasty and even got rid of commercial agri-chemical fertilizers years ago. Ditto with our dear macadamia neighbours across the creek. We are both really trying to work with nature. That's the path of biological farming and regenerative agriculture. More to be discussed in another blog .. but for now lets share that we only add natural organic inputs such as compost, cow poo, lime, fish and seaweed emulsions – all microbial enhancers to support the soil microbial life and encourage the nutrient cycle between trees, ground covers and soil. Locking in carbon as we go. It's a path of delight, learning, and takes give-it-a-go attitude. One that makes us feel worthwhile custodians of our land and waterways.
We admit that a few determined weeds still get the spot spray treatment, and if I could get rid of that final weed killer I would. But as 'She who pulls weeds as she sees them on her walks' ..and with over 50 acres to cover, it can be a hard slog to get rid of those pesky 'pioneer plants' after the salubriously moist conditions of this summer-autumn. I know we are supposed to embrace the weeds along with our range of grasses, clover, legumes and reseeded cover crop plants .. all part of biodiversity and soil health .. but still a nuisance all the same. I know that is old school farm thinking, and being on the path to natural farming you embrace weeds too. So that is our learning. What to accept as fine, vs truly unwelcome nuisance. We are so close to being fully organic, but what about the grasses that grow into the driveways? Or what we call 'evil' vines whose seeds have blown in and set themselves in amongst the coffee rows? Even having the spray just for those moments prevents us from becoming certified organic in Australia, which seems rather unfairly tough compared to what is allowed under foreign Organic Certification. I will elaborate on this in another blog too. Challenges of the regenerative farmer!
We are solidly on the path to regeneration – not just 'sustainability'. That would mean doing the 'same old', sustaining the status quo. We are building healthy soils + shared wildlife zone + clean healthy waterways + healthy, resilient coffee trees. Because we need healthy productive crop for our love of coffee~! That's what we are striving for.
SO BACK TO OUR NEW NATIVE BEE FRIENDS :
They are known super pollinators for macadamias (helping set the fruit buds for the farms beyond our creekline) so let's see what they will do for coffee pollination.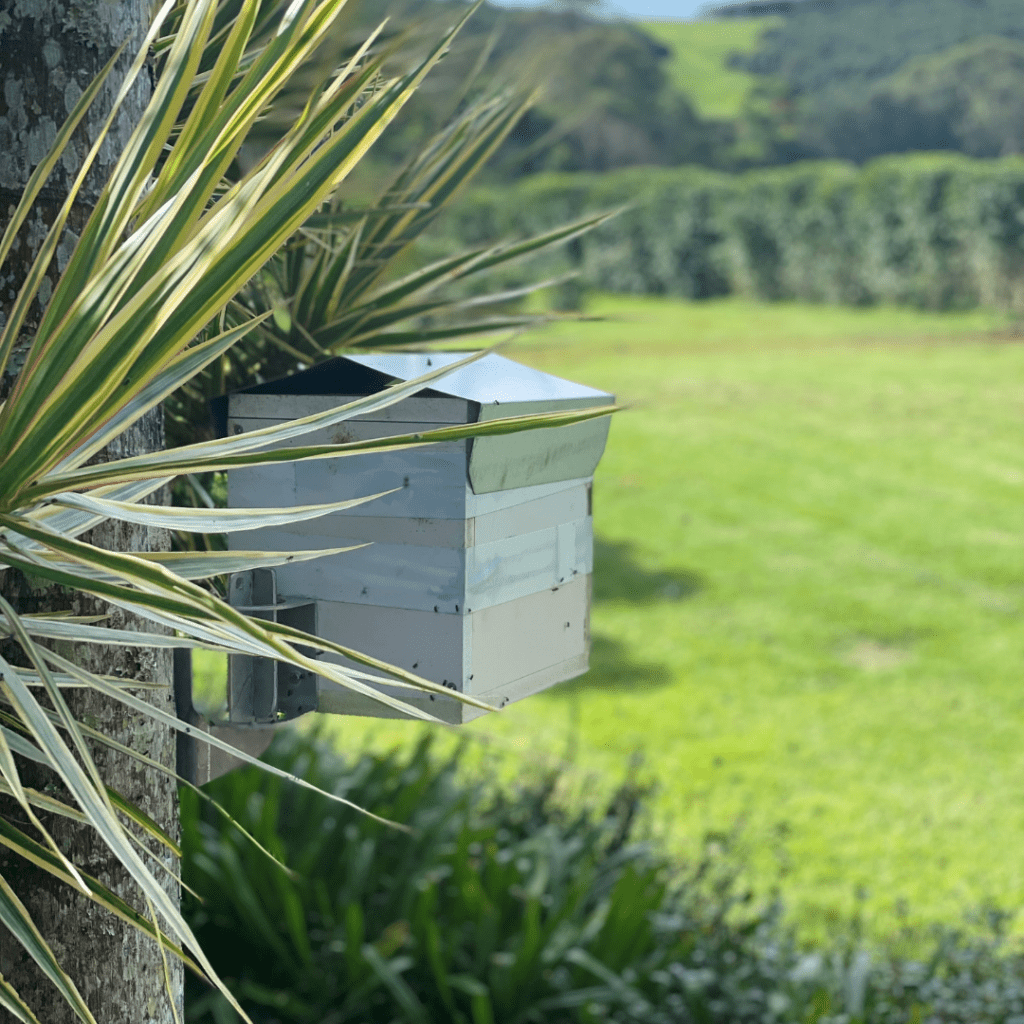 We'll enjoy looking out for their activity during our coffee flowering time, come Summer and shall report back, once those gorgeous coffee blooms come out for their 2 day all too small moment of gloriousness!