It's the season to build compost.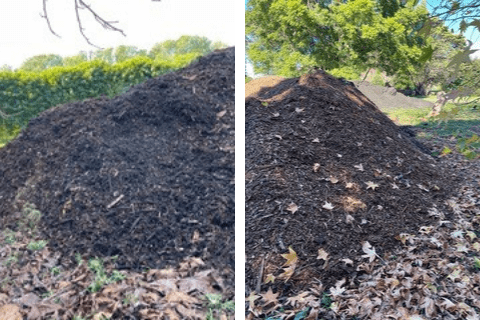 Rebecca loves making compost. An experienced 'home waste' composter – it's quite a different thing to scale up and gather ingredients enough to cover 40 acres of productive coffee trees and farm orchard. By way of introducing her love of worms and daily composting, we're sharing some pics here of effectively composting Zentvelds plastic free – paper coffee cups. You can see the cups breaking down only 1 week after they were added. Look at that worm action! Completed in winter, within 3 weeks the paper coffee cups are now completely composted. We have been proud to be the first roastery chosen by MPM Australia to trial their fully plastic free, lining free paper cup range and can now fully endorse these as properly compostable. Just like newspaper. With toxic free, edible inks and glue, we can safely spread this compost right amongst our herbs and vegies. How good is that.
Over Winter we've been building up our compost piles like never before! Even though we are blessed with naturally rich volcanic soils, we reckon our 30-34 year old 40 000 arabica coffee trees could benefit anytime from some life enhancing compost. Cools the soil, retains water, provides a home for microbial life.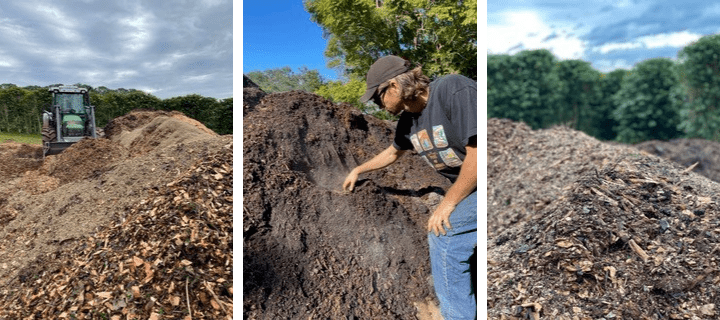 So we need to really crank up the compost piles. We are on a mission to use our own on-farm resources and supplement that with what we can source – preferably using up someone else's' waste'. Waste not, want not!
For years now we have been accepting natural organic 'hemp seed husk waste' from a local hemp producer and tree and garden mulch from arborists who find plenty of work clearing up nearby hinterland 'lifestyler' land and large gardens needing a revamp. This is quite lush, Bundjalung Country of the NSW Northern Rivers – aptly dubbed the Big Scrub by white settlers – with our subtropical microclimate and rich volcanic soils providing pretty fine growing conditions. Trees and shrubbery, grasses, pioneer plants/ remedial plants (aka weeds) – they all pretty much thrive. We'd best cover the soil with something we wish to grow or nature will choose for us!
Anyway, we blend up all this good stuff to feed our soil life, naturally. Without chemical input. It's been years since we bought off the shelf chemical (NPK) industrial fertilizer. Encouraging biodiversity is the go with our rainforest and border plantings well established. Now we have been focusing on the ground-level and below – with biodiversity through ground covers and muti-species grasses, legumes and and some cover crops – and seeing self seeding plants and native grasses re-establishing amongst the coffee rows. Exciting stuff! We want to bring in diversity and life from the below the ground, up. We want to enable and encourage the natural biology of the soil to cycle nutrients back up to what we grow above the soil. That's the soil microbial-plant relationship needed to grow stuff naturally! Which chiefly, is coffee trees. Lots of them! So we have been learning to be open, to be experimental and try new ways to build our soil life and health for the future. With a focus on enriching our soil biology. A truly regenerative way of farming. Not just sustainable. Building soil, retaining water, building resiliency and soil life for the future. Healthy soil for healthy trees and hopefully then, more coffee fruit! Which selfishly is what we all want as coffee drinkers, ultimately.
We have turned some lovely flat grassy space into plots for the loads of tree mulch, hemp husk, compost and in the past, aged cow poo that get delivered and have now got some decent sized compost piles on the go.They will need to season and break down for a few more months.
Waiting a year would be best to really get the good fungal and microbial activity going as they cool down … but I am struggling against my keenness to get it out sooner. I'm impatient to feed the soil under the coffee trees. So we snuck in a little under 3 young rows of 'Catuai' to give them a wintry boost. See pics here.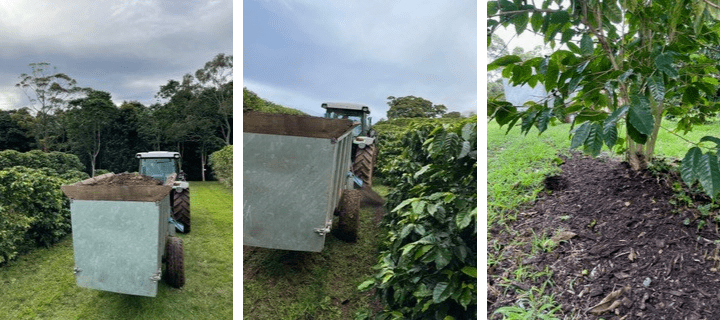 I'm not going to go into too much detail as you may not be so interested; but there is a bit to effective compost making, with time and temperature considerations affecting the bacterial or fungal dominance – and of course it depends on what ingredients you can source. Currently we dont have any manure in these piles. Sweet plant based compost so far. We are seeking fungal liveliness which trees appreciate – so we are after a cooler compost, well developed over long time. It should become all the more lively with microbial life, and thus more nutritious for the soil and plant life above in the longer term. So patience! We will reap more benefits if we can allow nature to take it's time to build 'the biology' – short hand for naturally building up the microbial life and encouraging the natural symbiosis between microbes and plant roots. That's nature's pathway to plant nutrition and soil health.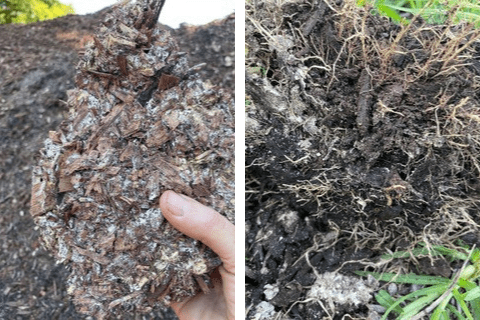 Now later on I will share how we can boost the effective biology of the cooling compost piles with natural inoculation sourced from our other activities here on our farm : with worm juice (worm farms creating vermicompost in old bath tubs), supplemented by our natural bacterial boosters of fish and seaweed hydrolysates we are brewing on site, (that is a story in itself) and our first batch of Johnson-Su bioreactor composted wood chip that has aged for a full 12 months, but is still under wraps. Phew. Stories to be shared!
Fungal life, microbial life enhancing activity .. rejuvenating plant life and building healthy soil .. bring it on!