FARM NEWS SUMMER 2019
---
A TRIM NEW YEAR …
THE SUMMER START TO 2019
---
Our coffee trees were just too big! You could barely walk down the rows, let alone mow, without getting attacked by lateral coffee branches bearing fruit and bending down with their weight. Some were so lush with recent years' good growth of stems and dark green leaves shading and hiding the coffee fruit; whilst others were more wood than fruit bearing – so really they all needed a good prune.
Our plantation had become 40, 000 coffee trees rather than rows of coffee shrubs. So much taller and wider than the harvester, they had to bend over and squeeze in through the harvester 'fingers' to shake off their coffee fruit. When they bounced back up after the harvester passed, some fruit was still left on, that didn't get shaken off. So that is wasted good fruit left on the tree! Now if anyone has ideas that hand harvesting is worthwhile – well if you were 10′ tall, you would have been handy to offer your services!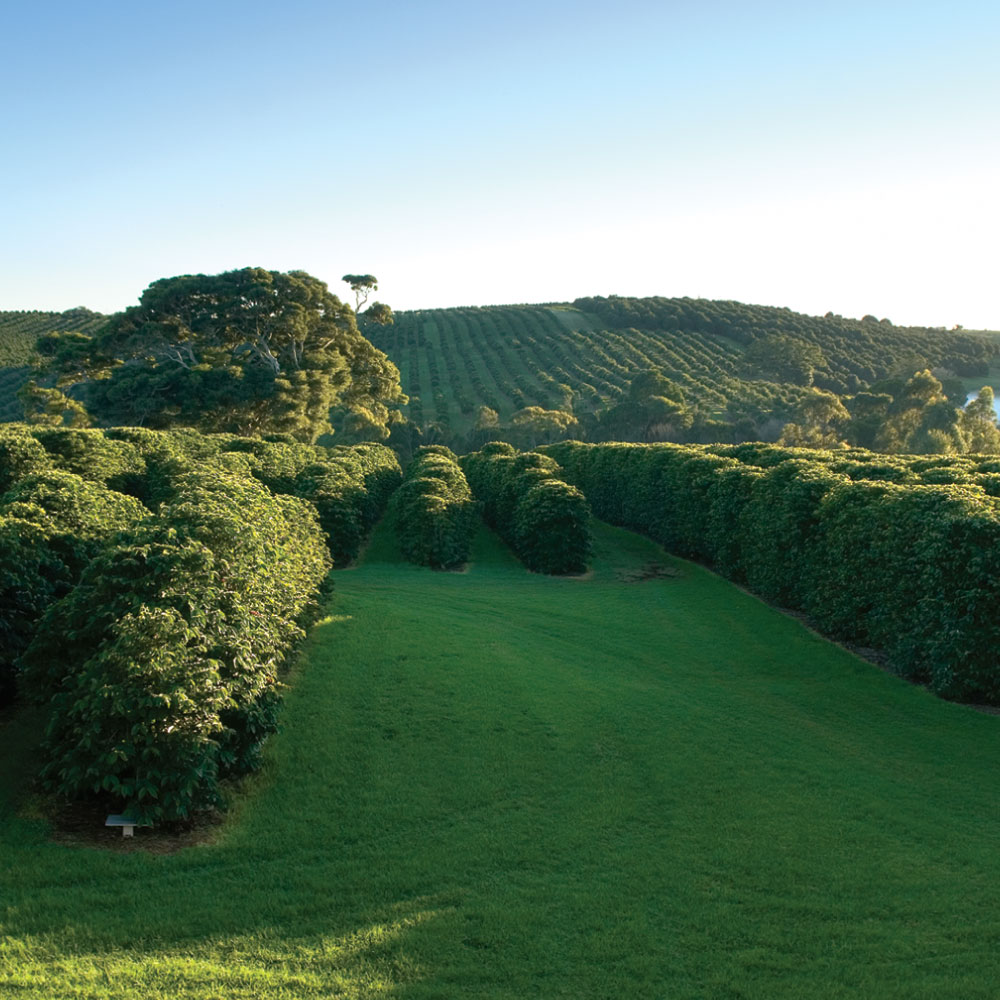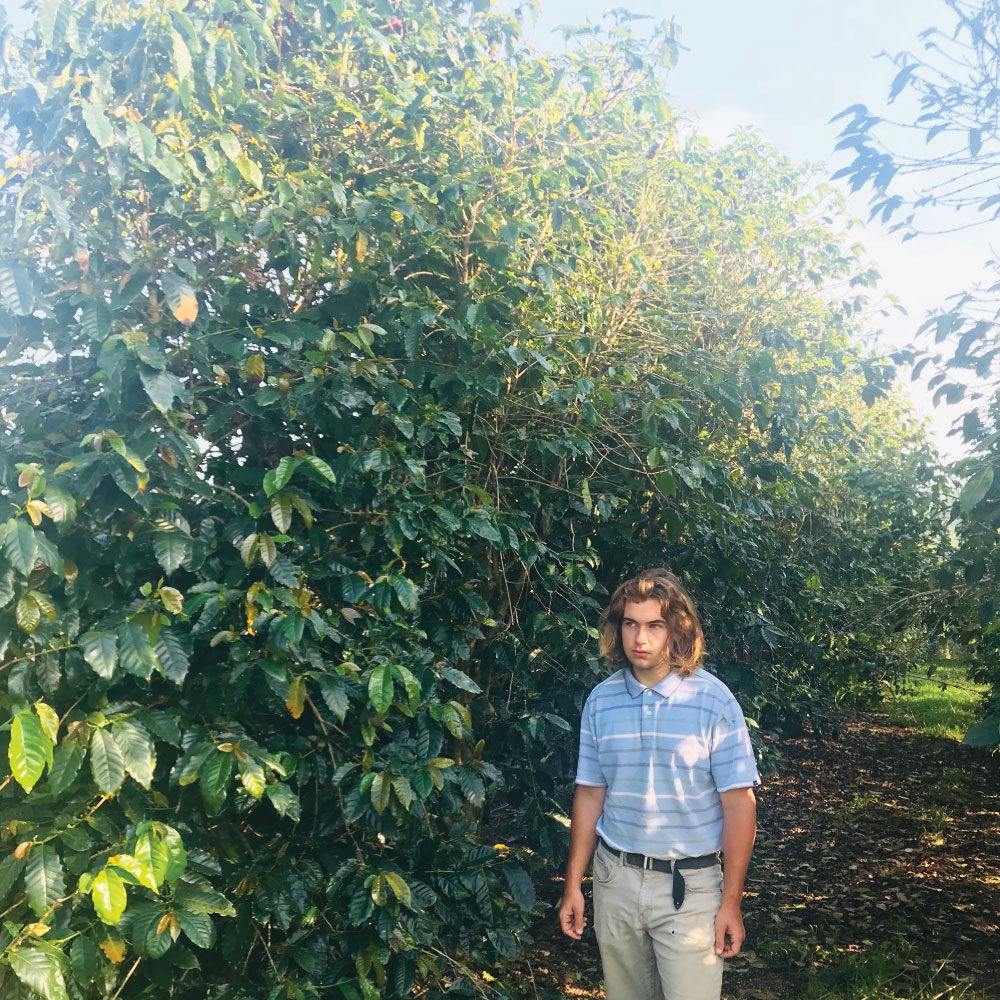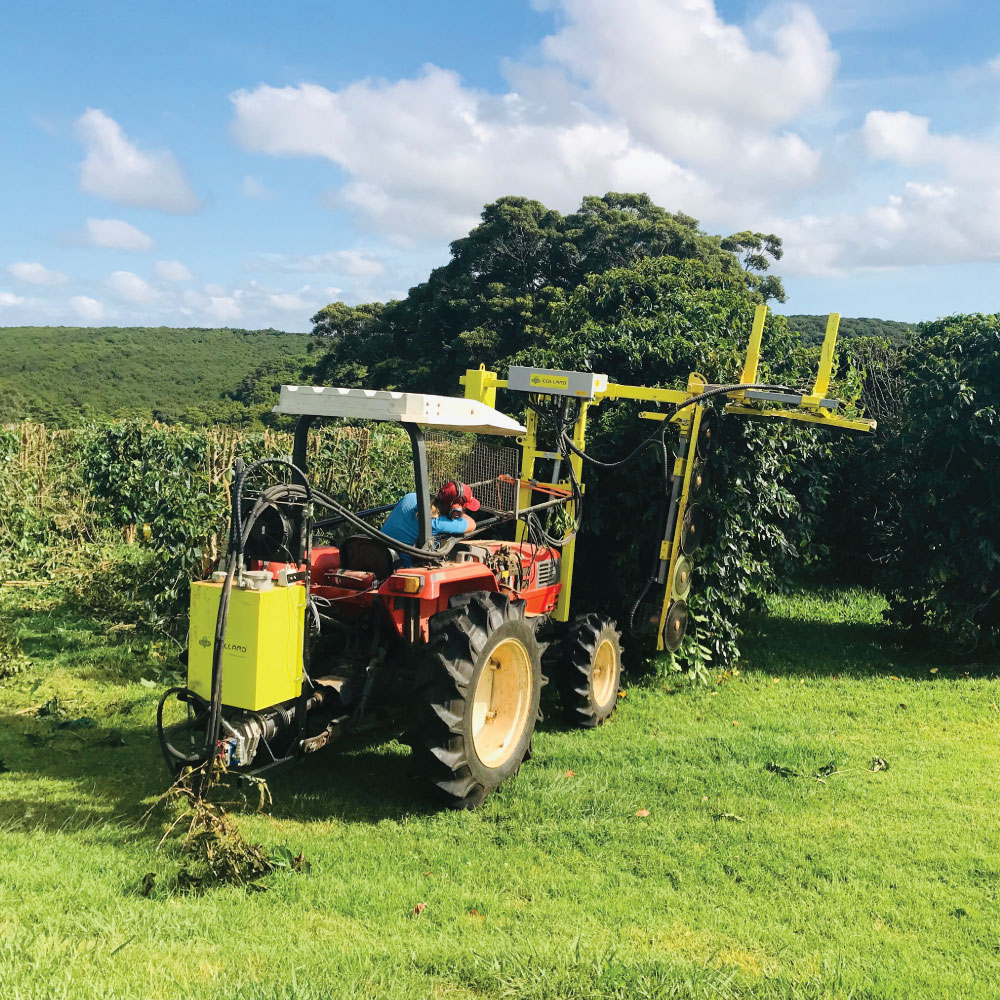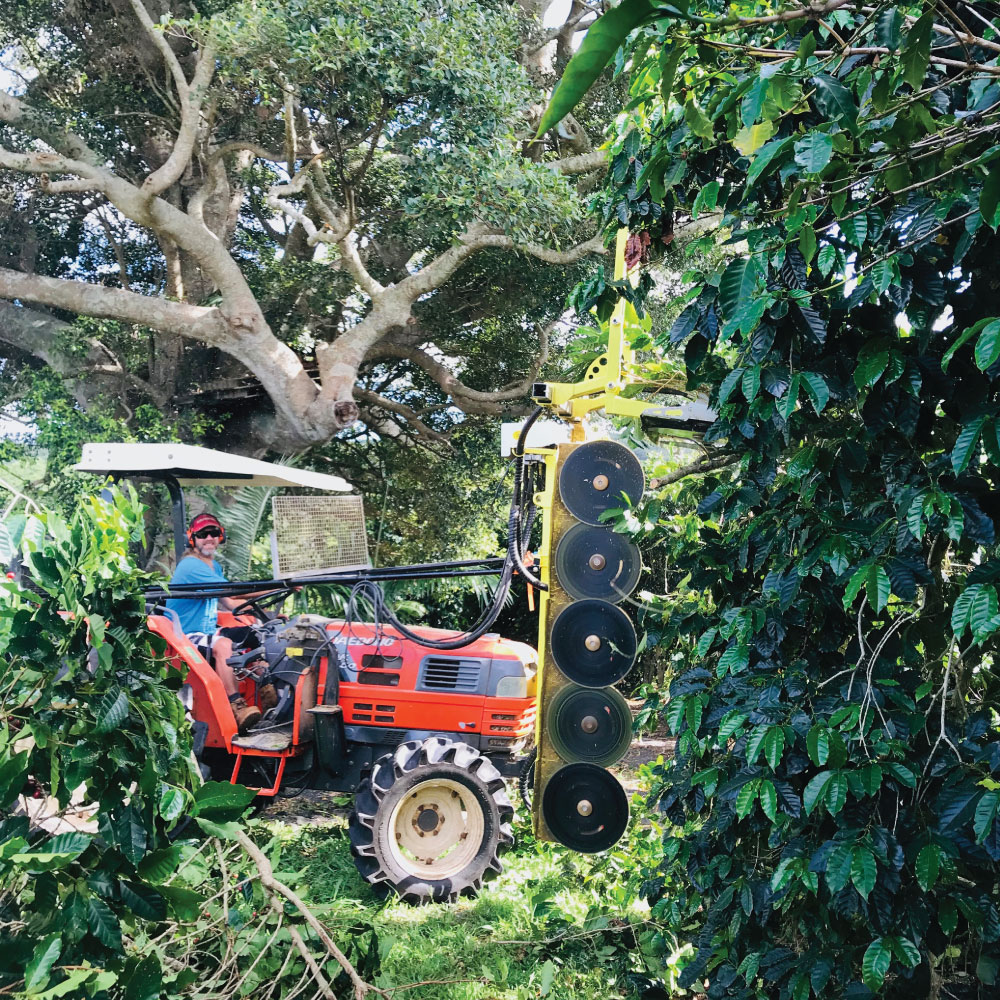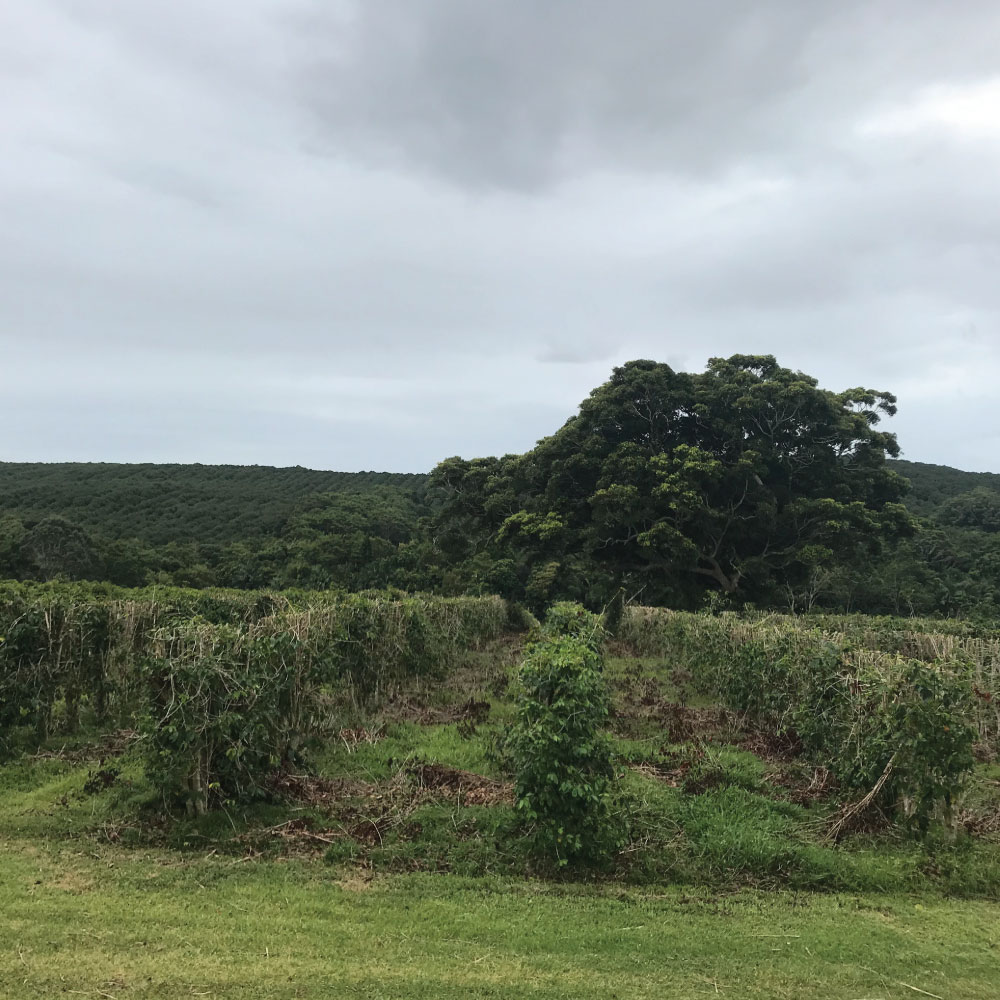 THE AFTERMATH!
So a 'pruning we must go! With our French pruning equipment dubbed Monsieur Mort (check out those lethal blades), the Collard pruning discs trim one side of the row and the top at the same time. Christian is brave, yes, (and half French) but we are more assured that he is mechanically minded; so checks the equipment well in keeping his own safety very much in mind!
Mechanical fun and games ( ie costs) of farming …
Now to start the new year, what could break down in the first week … the mulcher, (hence the tree trimmings all left between the rows), the mower – we were sent the wrong size mower blades; the quad bike – ditto, wrong parts sent ( and Yes we ordered the right parts …) and then the clutch went on the Tractor … and we've been sent the wrong bearing! So 3-3, that's our bad luck with parts replacement over with I would like to think!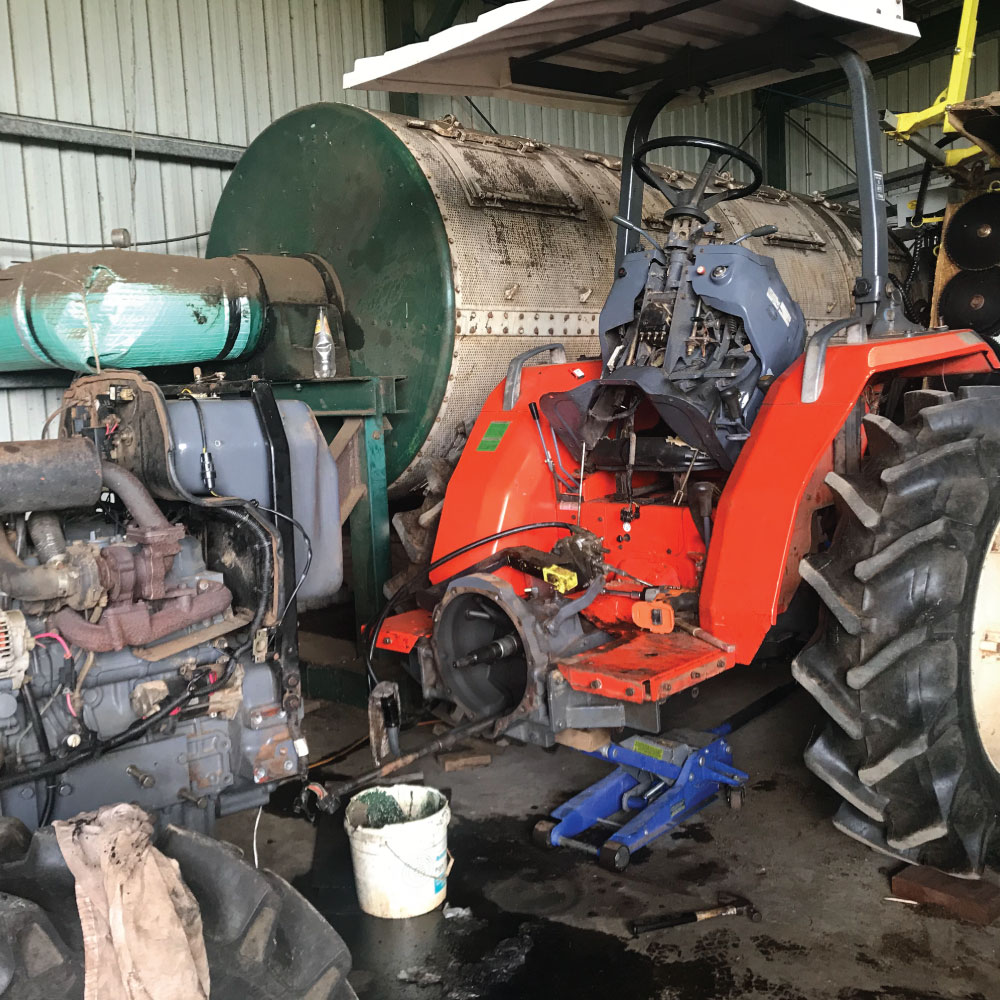 OUR SAD TRACTOR IN HALF
So halt to pruning, mulching and mowing action. What's left to do? Fix stuff, clean and oil change; whipper snip, hand pull weeds or vines and branches stuck in the trimmed rows and hand mow. Piffle.
Meanwhile the first rows we trimmed in November and December are growing back well with lovely new fresh leaves.
New growth befitting the New Year!