SPRING TIME IS HARVEST TIME
---
After 10 long months of fruit development, the coffee cherries have slowly ripened ready for their spring harvest.
All the growers across the NSW Northern Rivers are similarly preparing for harvest. Some will get in a contractor with mobile harvesting and processing equipment. A few own their own equipment, like ourselves; so we're setting up the processing units ready to accept the field bins of coffee cherry, where we then wash, sort, and pulp the fruit skins separate from the wet coffee seed.
Nothing gets wasted, as all the skins and any underripe fruit get composted or mulched straight back under the coffee trees along with the water used in the washer- sorting and pulping process.
A little promo here for John Zentveld Snr, as through his coffee processing equipment importing and exporting business C.A.P.E Australia www.capeau.com.au he offers coffee processing equipment, with a focus on water efficiency and minimal usage, as well as driers, hullers and graders for coffee and cocoa growers.
So, back to the processing : the over-ripe fruit gets sorted to be dried seperately as our favourite 'naturals'. Think of sultanas or raisins being the shrivelled over ripe dried fruit compared to fresh eating grapes, and you will get the idea of the flavour intensity and spicy fruitcake notes that naturals become. We choose to store all our dried coffee in big bags for at least 3 months to let the flavours develop within their dried parchment or natural coffee fruit shell.
We also process the red ripe cherry coffee, which is traditionally known as 'washed' coffee. We pulp off the fruit skins, then the clean wet coffee seeds are loaded into the dryer and spun slowly for 36 hours or so. Once they have reached the appropriate dryness (checked moisture level), the 'parchment' coffee' with it's papery shell protecting the green bean inside, is stored in big bags to season or age it's flavour. Parchment coffee, (as well as the dried naturals in their fruit skins) can keep for a few years as the papery shell is a moisture barrier protecting the green bean within. It is fortunate for us as roasters that we are also growers with processing equipment – so we can hull our parchment coffee as needed, throughout the year, thus providing fresh green bean ready to roast. So as needed, John puts the parchment coffee through the huller which chops off the parchment shell (it becomes super mulch, worm just love the loose dry, chopped up parchment shells) then the beans fall through, getting sifted through the size grader. We send them off for colour sorting too if needed.
We let our coffee season for 3-4 months, not tasting the harvest till the following February. It is not until we roast that we finally see! – taste! – smell! just how they are presenting themselves in the cup. Finally ready for our single roast profiles or coffee blends … and for us all the enjoy!
So it is quite a path and process, that our little coffee beans have to go through before we get to make a cup of coffee. The coffee trees have been nurtured : trimmed, mulched, fed and watered for 10 months to encourage the right circumstances for fruit development … till they are finally ready for harvest and processing – subject to natures' forces or kindness along the way.
This year, it didn't rain for practically the whole of winter – 3 months dry. So the fruit took longer to be ready, holding on tight, till the rains finally came.
Finally harvest time is here – John has been out on the harvester, with the glorious site of plump ripe coffee cherries collecting in the side bin, ready to dump in the field bins to take over for processing.
Check out our harvest and processing pics!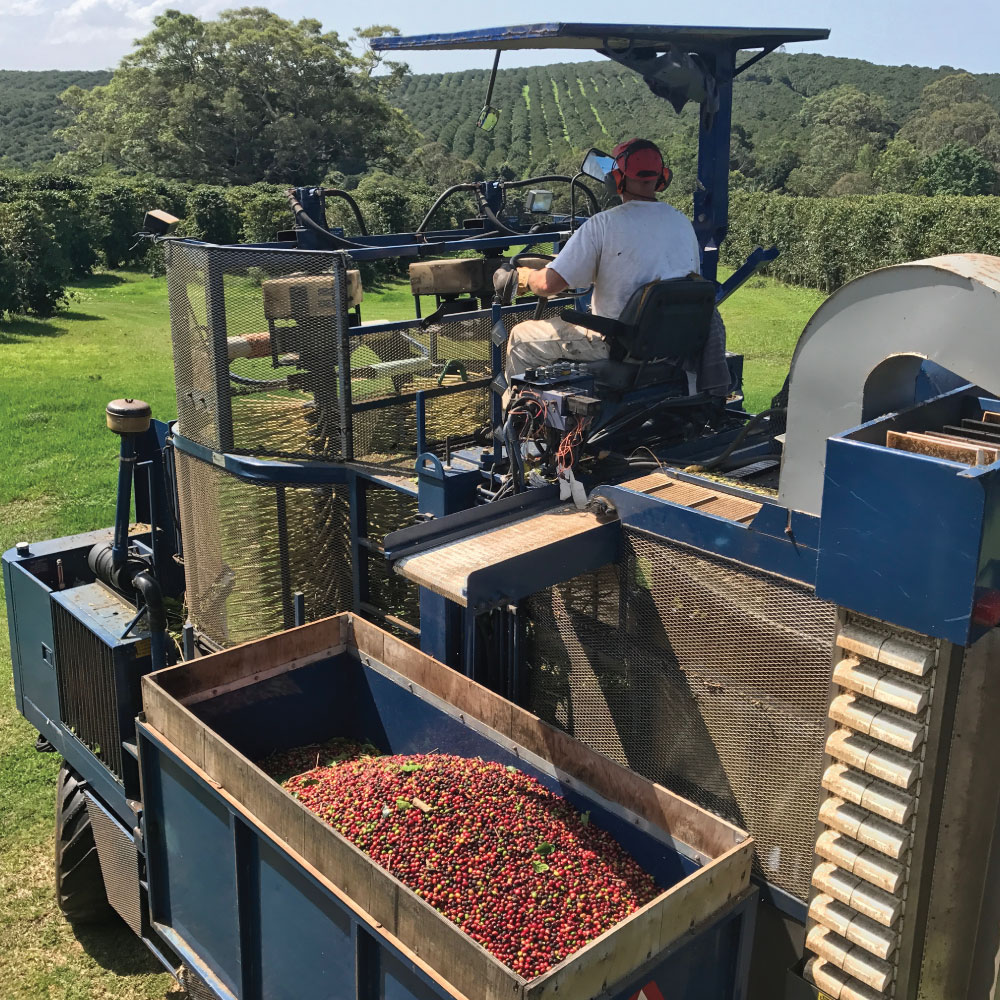 John Zentveld with a beautiful load of freshly harvested coffee cherry