SPRING HARVEST GALLERY 2021
---
It's Harvest Time At Zentveld's
Surely the most important season is Spring Harvest time! Its a long long year nurturing our trees and offering them goodness and care, whilst worrying about the vagaries of weather as we watch the coffee fruit slowly ripen and develop on our arabica coffee trees, here in subtropical NSW.
RED COFFEE FRUIT – Isn't coffee fruit just gorgeous? No wonder we call them 'coffee cherry' when ripe.
Last December's fine flowering set the fruit that take a good 10 months to grow – slowly ripening in our cooler sub-tropical climate. As I write in my blog on cool coffee, sweet coffee, coffee grown here is naturally sweet with developed complexity given the cooler conditions of our location at lower latitude than most coffee lands.
If you haven't yet been able to taste our fruit straight off the tree, we hope you can visit in late Winter or Spring 2022 – it's so surprisingly sweet!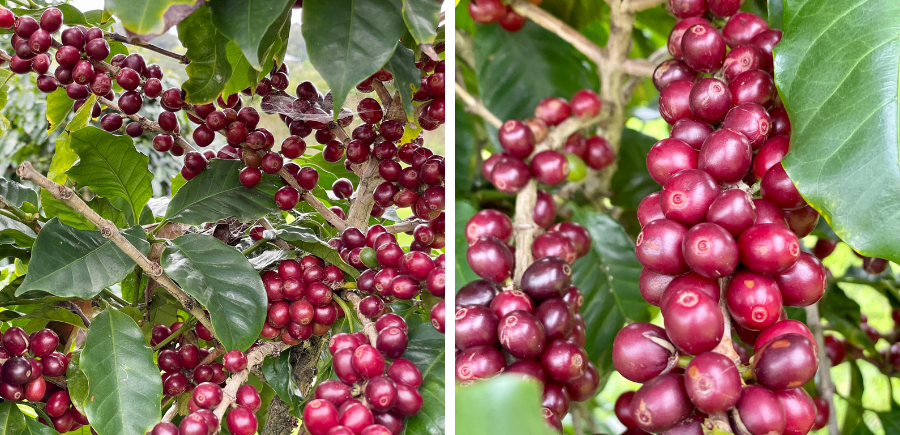 HARVESTING Our harvester straddles the rows of coffee trees, with the fibreglass rods spinning and set to provide enough pressure to pick the softer ripe fruit,
and leave the less ripe fruit for another day. It will be all over within 3 weeks, start to finish. It's rather like a drive through car wash, with the spinning brushes.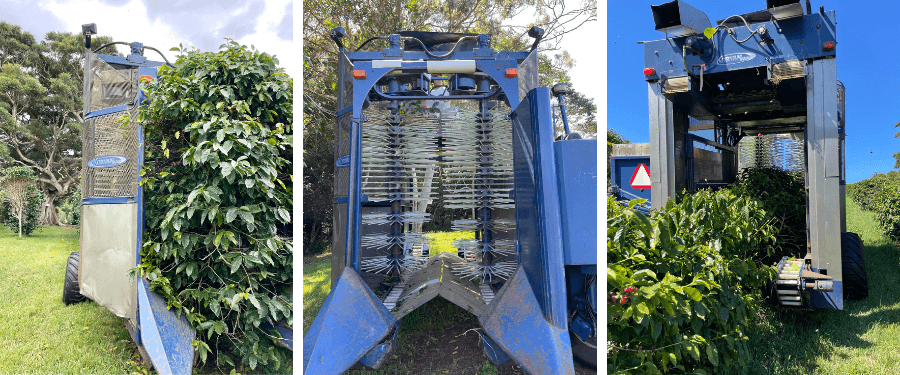 HARVESTING – That's John up there , with a bird's eye view on the 3 wheeled harvester. These pics taken around our beloved fig tree with spreading branches.

FIELD BINS – The field bins of ripe cherry are tipped into the floor hope, then augured up into the washing station where it shakes and sorts out the greens from the ripe red fruit and the overripe naturals.

THE NATURALS – The naturals (shown on the left, below) go straight into the dryer, allowing their raisin-like, spicy fruit cake noes to enter the green bean within.
RED CHERRIES GET PULPED – The ripe red cherries (shown on the right, below) will get pulped – freed of their fruit skins which get composted along with any unripe fruit that got inadvertently picked. See pics of the fruit skins and our year round composting efforts on past blogs such as compost. Farm 'waste' feeds soil life!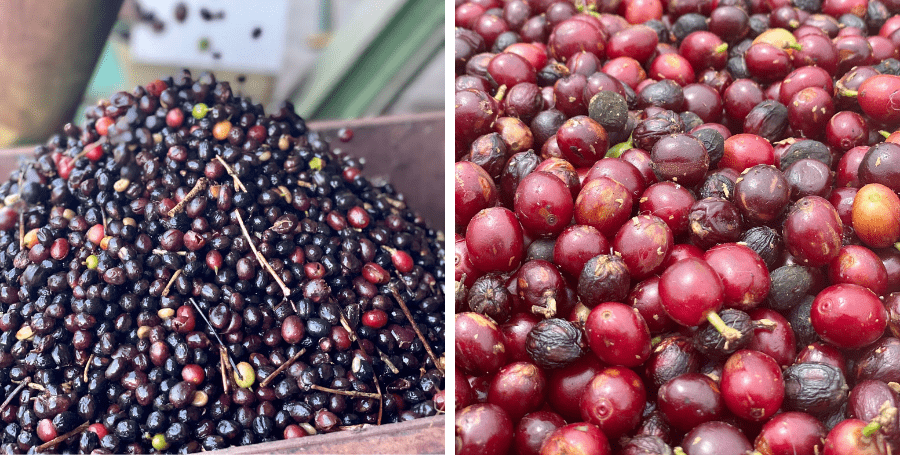 WASHED COFFEE out of the pulper (shown below) is now ready for drying. The dryer will slowly spin for 36 hours or until the moisture content is 11%.
PARCHMENT COFFEE – With its papery shell protecting the raw green bean within. Shown below, it's out of the dryer, into the low wooden bins, ready to be loaded into bags for storage for 3 months – developing their flavours within the coffee bean and working on complexity and interest … for us to discover in a few months time!
So after resting in storage, the parchment coffee will go through the dry mill for hulling, grading and sorting to give us our precious green bean raw coffee, ready for roasting.
The hulled papery shell is not a waste product – it goes out to be composted or mulch under the trees creating worm delight and building organic soil matter.
Then finally we are ready to roast our coffee, taste and offer to you through our delicious roasts and blend offerings.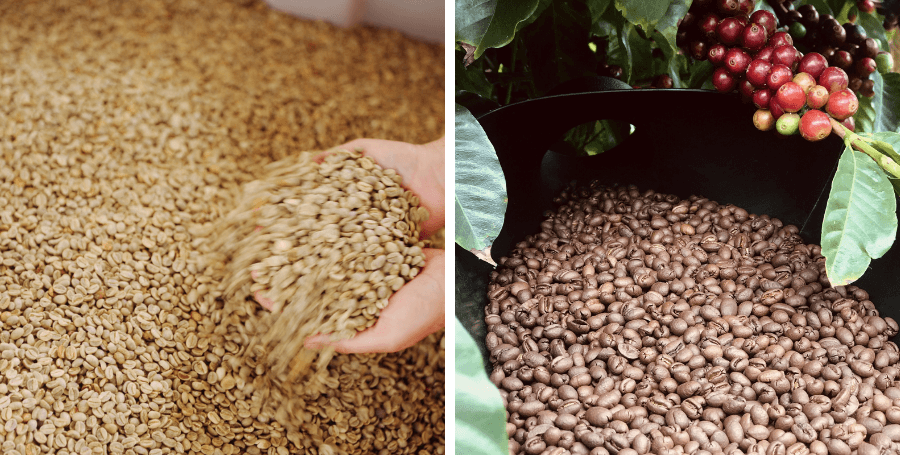 Now as I have said before, we hope other coffee growers out there do well with their harvest time too. There aren't many of us and there is a desperate need for a contract harvester to service the smaller growers across the Northern Rivers of NSW and QLD's Sunshine Coast. I fear much coffee has been left unharvested this year.
We all only get one go at it in Springtime – and for most growers, it can be bi-annual crop production for mature trees. This season for us is a reduced harvest year after a decent crop in 2020. We wait and see what other coffee becomes available to purchase for our Australian coffee blends.
After harvest finishes we will be doing another big prune of the taller trees and removing less productive rows. Time for re-planting smaller varieties or the future.
So seeking real local coffee? I really don't want to say "get it while you can," but I will repeat my mantra of "local coffee : it is so good, but oh so rare!