Summertime on the Farm
What a wet, wet start to 2022.
While it's less fun for holidaymakers, the drizzly start to summer in the Byron hinterland is pretty welcome to We coffee growers.
It's a picture of greenery from the grasses up to the tip of the coffee trees growing back lush mop-tops after their spring trim.
One wonders just how high the grass will grow, with daily watering from the sky and our mower being out of action for 4 weeks!

The coffee trees are recovering post pruning with new leaves a'plenty. Some are bearing wee, young buds of coffee fruit.  
Thank goodness!  More coffee please! 
Other bushes offered up potentially their final summer bloom in recent days, with the jasmine-like fragrant flowers attracting our nectar seeking bee friends. A local honey chap, who has parked over 20 bee hives on our farm, said bees are known to seek out coffee blossoms and will travel past other flowering shrubbery to zoom in on the coffee flowers!  Cool hey!  The flowers are oh so sweetly fragrant, look and smell like citrus or jasmine blossoms but only last a couple of days before dropping. 
I wonder if the honey bees know they need to get onto those flowers quick smart? They'd be in tune with nature's short lived offerings for sure. Anyway, that's my thought of the day. They  wouldn't want to miss out if there are only 2 days to get that sweet nectar and pollen back to their Queen. Coffee blossoms are on, go get 'em!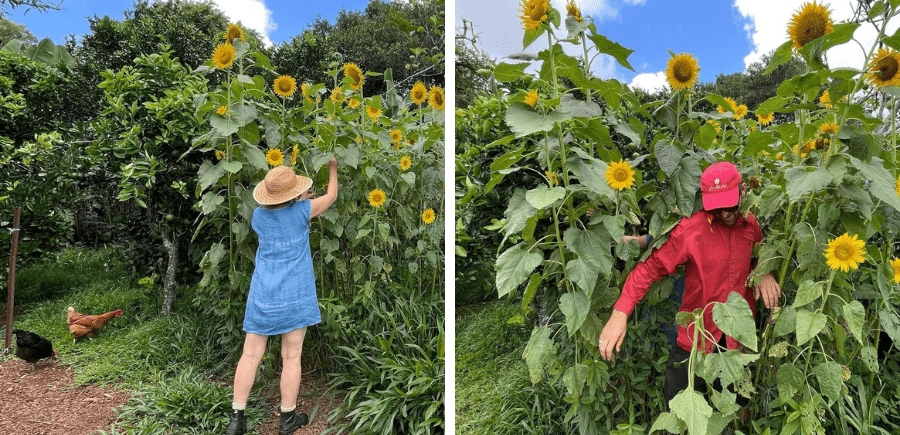 Meanwhile, the inter row cover crops we planted in Spring add a frothy sea of green within the coffee rows. Some rows have grasses moving in, but that will happen if we don't use herbicides to knock them back. There's only so much grass I can personally pull out of 130 + rows of coffee! This is one of the challenges of implementing regenerative practices, such as planting cover crops to boost the biology of the soil.  If we dont use chemical sprays (herbicides), then the grasses and less welcome weeds will grow just as happily and zoom in to our composted rows and young cover crop plantings, opportunistic that they are. I would say it takes less energy for grasses and weeds to mooch across the land than the energy needed for our selected seeds we planted intentionally to get going. Such is the nature of nature!   
So what did we plant for the spring cover crops? 
Legumes for the nitrogen fixing benefits : cowpeas, soy beans, lab lab and sunn hemp. These are new to us and we've had fun guessing what was what until I thought to look up the images, haha!  I grew some sunn hemp along with sunflowers in the orchard as a trial block. The sunn hemp hasn't flowered yet, they need a good hot summer, so stay tuned to see.  Check out how happy those sunflowers are! Oh so high- too high for me to collect the seed. No doubt the cockatoos will be back.

We also planted chicory and radish as their deep roots draw up nutrients from way down. The tap roots left to rot naturally in the ground will provide holes for water catchment and help aerate heavier soils. They also grow masses of leaves; doing the job of solar collecting, photosynthesis work and their biomass is good for suppressing weeds and once chopped at the end of their life will be good mulch too. 
Buckwheat is so quick to sprout and flower, attracting good bugs and bees. The millet and sorghum provide more biomass and weed suppressing benefits too, an our pinto peanut is trapsing across the land, popping up along with clover here and there.Happy days looking down there at all that fine growth of the good guys.
So that's our lot, growing rather well over the last 6 weeks. We look forward to seeing the cover crops develop flowers, becoming a natural insectary which will attract birds too, before eventually going to seed in Autumn.  We have ordered more summer seed and will get planting across the farm next week.  This will boost the biology of our soil, create homes and food for wildlife above and below the soil, store carbon and most importantly, enhance the chance for natural nutrient transfer to our coffee trees.  We should see more coffee growing on our trees and therefore more to share with you all to enjoy in your daily cup!