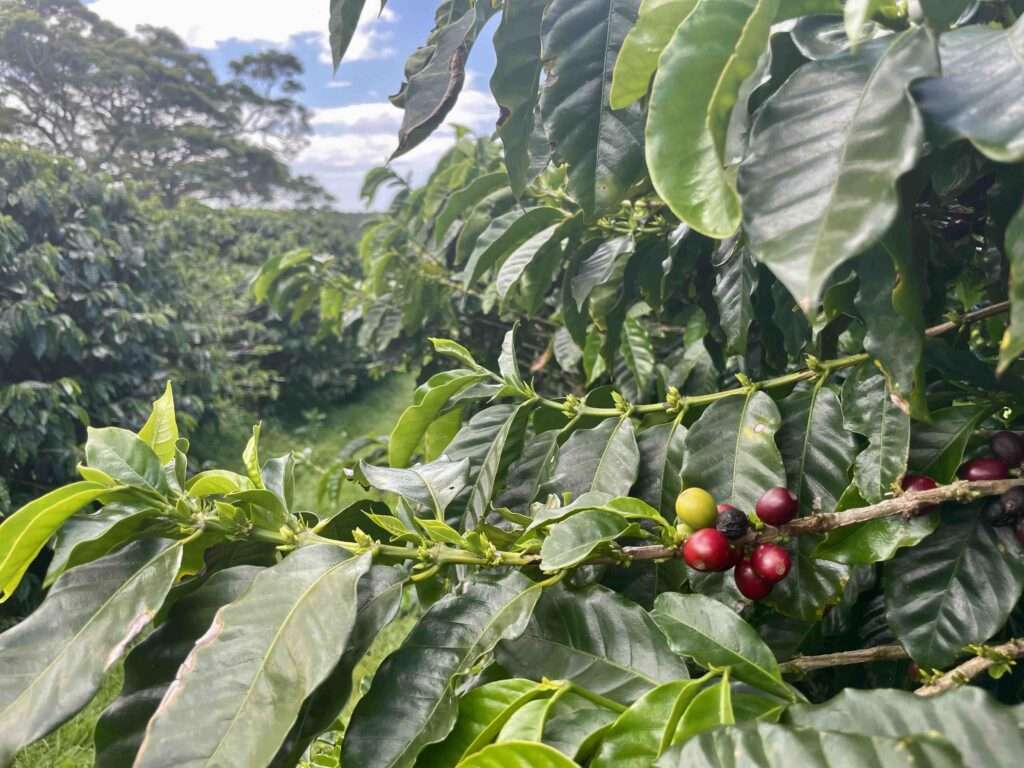 Time to share what's been happening on the farm this late spring time.

Spring Farm News: Have we harvested yet?
Monday 21st November John will be heading down just a few select rows to harvest some precious ripe coffee fruit. 3 rows of smaller Catuai varietal show some decent fruit set. But there is only a smattering of ripe fruit on our taller K7 varietals. Hopefully we will find a few more rows worthy of a pass with the harvestor next week. We need every bean we can get!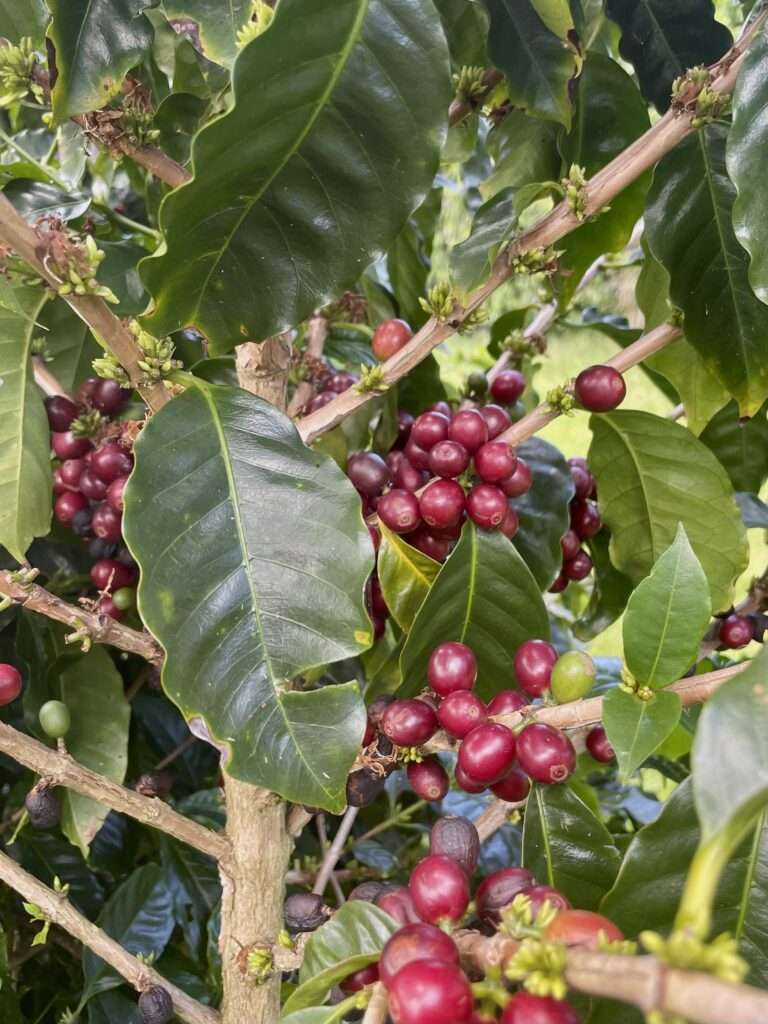 2 things to share.

1. There is barely any fruit on the trees this year. Bummer. Tiny crop set from minimal flowering, last spring-summer of 2021. So tiny harvest it will be, now 11 months have passed and the fruit is finally ripening enough to consider harvesting and processing to gain the raw coffee bean within.
Not good for our supplies of coffee coming into 2023. But not unexpected, as we noted we barely had a flower set, this time last year. We also gave our tall coffee trees a good trim last December.
So whilst our trees have (mostly) grown back tremendously well through the year – sprouting many branches and leaves with all the rain we have had through 2022; there is very little fruit set. It's all been about new growth.
2. This is really really late in the year to harvest. With such a cool year – has this been the coolest 'on record'? – I dont know, but it certainly slowed the ripening of the coffee fruit. Which IS a good thing for the sweetness and development of flavour into the coffee bean within. So we look forward to tasting what coffee we actually get to harvest! ☕️😋 Stay tuned for that, early next year. We shall let you know when the fresh harvest batch has settled in, ready for roasting!
Meanwhile, the coffee trees continue their bursts of blossoms – setting up next year's crop production. Yay~! Nige is feeding them with our home made compost, fish and seaweed ferments; adding food for the microbial life, minerals and trace elements. The cover crops are powering along, growing really well. The young plantings are lush and the older ones in insectory mode, attracting all manner of bugs and bees. They look wonderfully messy and full of life.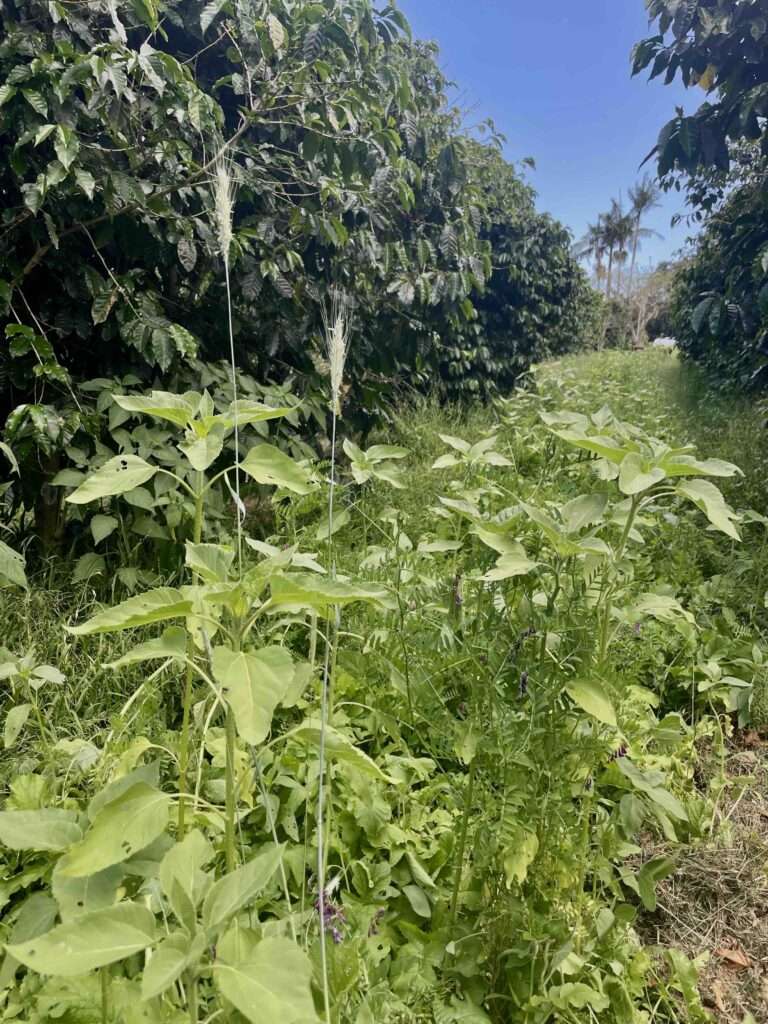 We look forward to welcoming other growers and new farming folk who have booked to come on the farm tour here, for The Australian Biological Farming Conference. 2-5th Dec. We will attend the conference and am particularly excited to listen to leaders such as biological coffee advisor from Hawaii, Bob Shaffer talking covercrops and compost. Time to learn, share and be inspired as to how best look after our soil life, and enhance the nutrition for the good health of our coffee trees, naturally. Exciting opportunity for us to attend here in Lismore, hosted by our Soilcare Inc. we are proud to be part of. 👨‍🌾😄🌱🎋🌳
Remember if you're visiting the Northern Rivers – we are open weekdays 8-4pm so come and taste coffee grown right here in front of you. Spot a coffee blossom or final chance to taste ripe red coffee cherry, fresh from the tree. And dont forget to try our honey and take a pot home along with your coffee!
We hope to see you soon,
Rebecca Zentveld